BIOGRAPHY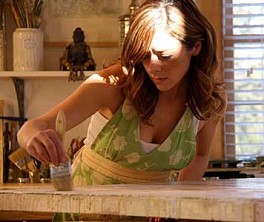 Robin Luciano Beaty is an award winning painter living on the North Shore of Massachusetts. Her work has been featured in multiple solo, group and juried exhibitions. Represented in many private and corporate collections internationally, her work can also be found in galleries across the US. Robin was awarded the 2009 International Encaustic Painting Conference Award for Best in Show in the exhibition curated by Nicholas Capasso, chief curator of the Decordova Museum. She was the recipient of the NH 2010 "Spotlight Award" for 'Outstanding Abstract Artist of the Year' , honored by The Wire Magazine as "one of 2009′s most intriguing artists" as well as 2010′s "Stand Out Artist of the Year". Also featured on the cover of the Boston Globe's G-Style Magazine (Oct 2011) , Martha Stewart Whole Living Magazine (May 2011), Art New England Magazine (July 2011) and most recently featured in Boston Magazine, The Boston Globe and Artscope Magazine (May 2012) who garnered her as " one of the most heralded of New England encaustic artists".
Robin concentrates primarily on the ancient wax based medium of Encaustic paint, a molten beeswax mixed with resin and pigments, which she incorporates oils, mixed media, vintage materials, textiles and salvaged found objects. Her work has been described as "beautifully conceptual, satisfying mind and spirit simultaneously…" (John Stomberg- chief curator, Williams College Museum of Art), "less like images and more like three dimensional memories, complete with the haze of emotion and romanticism…" (-Ann Bryant, Portsmouth Herald), "masterful and extremely impressive…" (-Chloe Johnson, Wire Magazine) and "magnificent works accruing emotional truth…breathing with a deep sentience"…(-Pam Bernard- Art New England Magazine)
"My work is driven by the intuitive journey of discovering the reminiscent through process rather than rendering an explicit space. My intention is to spark personal recollections in the viewer from an unconventional perspective using unexpected materials. I'm communicating more of a memory than a representation with the use of texture, neglected everyday objects and forgotten mementos of the past. Though the fluvial and sculptural qualities of wax , I navigate memory. Scraping, tearing, building up and burning down multiple layers to reveal internal compositions brought out only by this tactile and physical experience.
In my most recent work, I strive to capture the universal and emotional connection to water embedded within our life memories. Oceans, rivers and lakes are instilled in our subconscious scrapbook, creating an undeniable feeling of nostalgia and escape. I am able to reclaim these memories in a significantly more personal way by incorporating vintage photographs, letters, textiles and found objects. By repurposing forgotten objects within my own private retrospective process, I bring back to life the very intimate recollections of another, along with igniting the viewers own.
There is something about water that entices us all, luring our own flesh and imagination towards it. The seductive reminiscence brought on by the ghostly mirror of a fogged lake or the lap of wave that leaves its white lace along the shore is what inspires me. Water is the epitomal symbol of metamorphosis and philosophical recycling. It symbolizes transformation, intuition and resurrection. Together the elements of water and reclaimed object entrenched within the atmospheric and ancient medium of wax, elicits the deepest sense of past, while offering a renewed vision of the current."
-Robin Luciano Beaty