PRESS RELEASE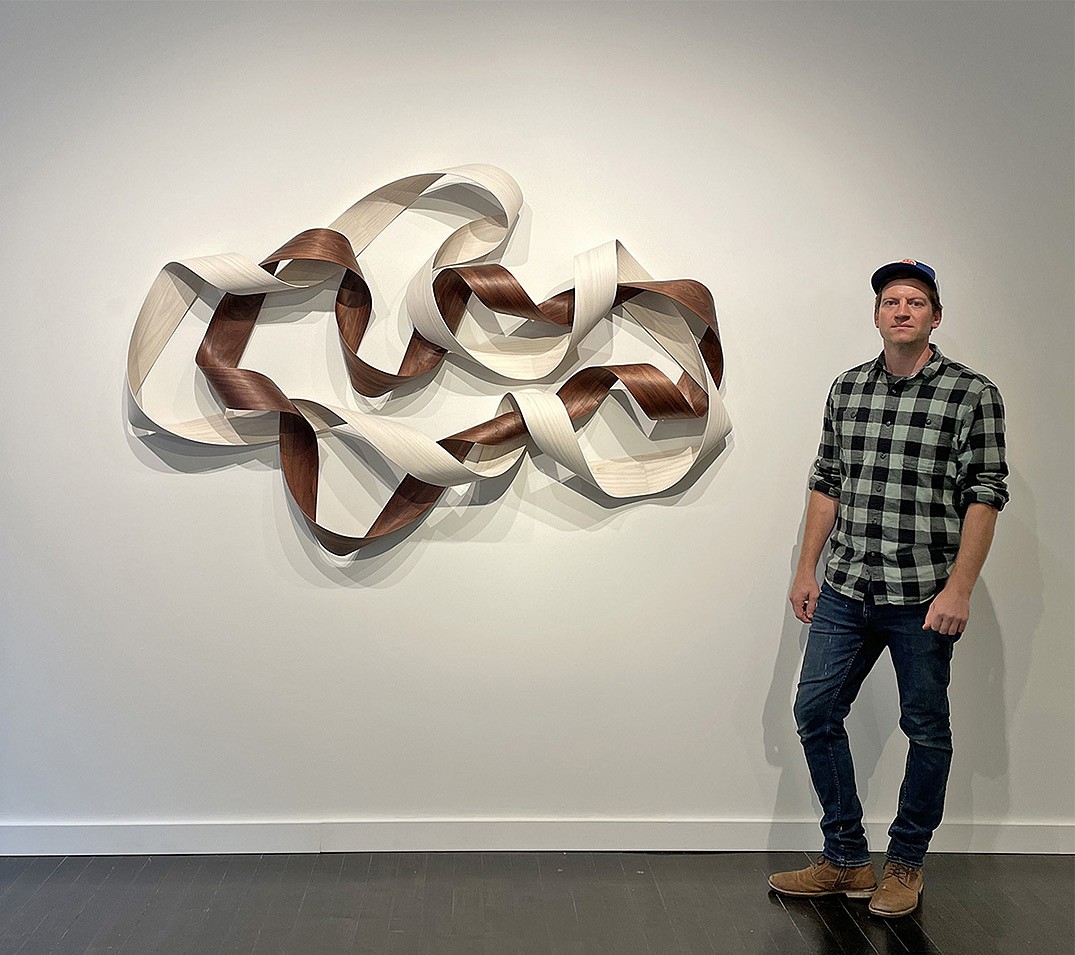 Jeremy Holmes "Intertwine"
Oct 13 – Nov 25, 2023
Lanoue Gallery is pleased to present, "Intertwine", a solo exhibition with sculptor Jeremy Holmes, opening Friday, October 13th and running through Saturday, November 25th.
Holmes enjoys working with wood in less conventional ways in order to expand the form and function of this most practical of building materials. He starts by using traditional woodworking techniques to make very thin boards from hardwoods such as white ash, red oak, cherry, or black walnut. He then soaks the boards over a period of time to soften the wood, just enough to allow him to bend the wood into abstract compositions.
Holmes revels in the creativity and process of sculpting with wood. In this current exhibition, he explores form through both stark contrasts and subtle color shifts. The former is a result of upping the ante by interlacing two separate closed strands of wood - one bleached white ash, the other oiled black walnut. The effect is a delicate, swirling dance of light and dark, such as in the show's signature work "Intertwine".
Conversely, other works in the exhibition like "Transition #4", are a study in color, using six graduating hues within a single composition. Or as with the monumental "Variations," which is composed of nine different sculptures painted in various shades of blue and teal.
Holmes describes the process of torquing a raw, solid material like wood as somewhat random and uncertain. Even as he is bending the wood in a particular direction, the exact outcome is never entirely certain. While Holmes may start the sculpting process with an intention, he often allows for a certain amount of randomness to occur should a new idea overtake his original plan.
Says Holmes, "With each finished sculpture, my own curiosity remains suspended in the completed piece, which keeps the creation of each work exciting for me." The end result for Holmes is that action, spontaneity, and improvisation can be combined with material and methodology in the quest for a beautiful art object.