BIOGRAPHY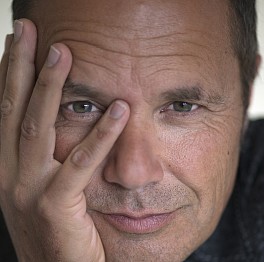 PASCAL PIERME
BORN
St. Raphael, France, 1962

EDUCATION
1975 – 1980 Art History and Technique, St. Raphael, France
1980 – 1982 Aerograph Technique, San Diego, California


ABOUT
Pascal Pierme was born and raised in France. He emigrated to the US in 1997 and settled in Santa Fe, New Mexico. Prior to coming to the US, he earned a reputation in Europe as a promising young sculptor. Pierme had several solo exhibitions in France and Switzerland, and worked on collaborative projects alongside creative luminaries such as Pierre Cardin.
Pierme cites his grandfather as an early inspiration. He was constantly in his garage creating; he was an exceptional craftsman and painter. In Pierme's earliest memories, he was fascinated by what his grandfather could do with a simple piece of wood, completely transforming it in a matter of a few days. Pierme recalls. "The scent of his studio was also a big attraction. The fragrance of multiple woods combined with turpentine and linseed oil created a magical space."
Pierme considered being a foreigner an advantage for his creative process. He quickly discovered a different system, culture and new approaches – opening a new chapter in the young sculptor's life. Now, nearly a quarter-century later, his career has blossomed in America. Accolades have been swift and abundant. Through apparent maturity in his work, he has been able to take more risks and evolve rapidly. Critics, curators, collectors and artists alike revere his ongoing bodies of work.
Pierme's work has been included in 80+ solo, museum and international exhibitions including the Chinese European Art Center – Xiamen, China; Palm Springs Museum of Art – Palm Springs, California; Phoenix Art Museum – Phoenix, Arizona; Georgia O'Keeffe Museum Annex – Santa Fe, New Mexico; Taos Museum of Art – Taos, New Mexico; French Consulate – New York, New York; Albuquerque Museum – Albuquerque, New Mexico and Ube Center of Art – Ube, Japan.
Current works can be found in many permanent public collections, including: ABC; Roger Guillemin, Nobel Prize recipient, medicine; Palais Bulles, Pierre Cardin's residence – Cannes, France; Tom Mottola, Casa Blanca Records – New York, New York; Trust for Public Land – Los Angeles, California; Marriott Hotels, Nationwide; City Hall – Collogny, Switzerland and Equifax World Headquarters, the list continues… Countless publications have featured his sculpture. In addition, ARTWORKinternational Inc. Press published Pascal in 2006 as part of their Acclaimed Artist Series. As well, Fresco Fine Art Edition has featured Pierme's work in their New Mexico Millenium and Abstract Art publications.
In addition, Pierme has found charitable endeavors an important facet in his artistic career. With a heartfelt desire to give back, he has worked as an organizer and benefactor for several organizations relating to the promotion of the arts and the betterment of the community that he calls home. As a resident of Santa Fe, Pierme has contributed to: The Santa Fe Artist's Emergency Medical Fund, National Dance Institute, Art in Schools, Taos Museum of Art, The Horse Power Project and Aid and Comfort, among many others.

ARTIST STATEMENT
Francois Mitterrand said, "I love the person who is searching, yet I am afraid of the one who thinks he has found the answer." In my life I have much more pleasure with the questions than with finding the answers, except when the answer is a new question. And that is where the obsession to create begins.
...For decades, balance, movement, inquiry, architecture and nature have been reoccurring themes in my work. I am interested in assimilating what is not supposed to fit – the combining of contrasting elements. My main ingredient is chemistry. I feel the movement and then freeze that moment in the interaction and take a "snapshot" – capturing a split second in the evolution. Thereby creating something that is abstract and at the same time, quite figurative. As such, my work can be experienced as organic. It moves. It is alive, it comes from somewhere, it is going somewhere, and you feel that by what you see.
I try to sculpt in a way where I can change my mind until the last minute. My creativity is at its best when I push the medium of my work to its limit.

SELECTED ART-RELATED
Ruinart Champagne Project - Miami, Florida
Curatorial ''1002 Project'' Calvin Charles Gallery - Scottsdale, Arizona
ART in Schools, 42 child participants, E.J. Martinez Elementary - Santa Fe, New Mexico
Art in Embassies - International
Art in Architecture - National
Assistant Sculptor to Dan You for feature film creation - France
Assistant Muralist, Palais Bulles, "Patrice Breteau", Pierre Cardin's residence - Cannes, France
Collaboration with Architect Anti Lovag, "Urban Project" - France

SELECTED EXHIBITIONS

2021
*Lanoue Gallery, Pascal Pierme: Organic Geometry, Boston, Massachusetts
*Hohmann, Pascal Pierme: Vue d'en haut, Palm Springs, California
Art Miami - Miami, Florida - Represented by: Hohmann, Palm Springs, California
2020
*GF Contemporary, Pascal Pierme: Explorations
Art Palm Springs - Palm Springs, California - Represented by: Hohmann, PalmSprings, California

2019
Pulse Art Fair - Miami, Florida - Represented by: Michele Mariaud Gallery, NY, New York)
2018
*Gallery Fritz, Pascal Pierme, inaugural solo exhibition - Santa Fe, New Mexico
*SITE Santa Fe, Exquisite Corpse: Live Drawing Spectacular, Santa Fe, New Mexico
Art Market San Francisco, Fort Mason Center - San Francisco, California
Context Miami, Miami, FL
Michele Mariaud Gallery, Dual Exhibition: Pascal Pierme and Joan Salo, NY, New York
2017
Art Market San Francisco, Fort Mason Center - San Francisco, California
Context New York, NY, New York
Art Palm Springs, Palm Springs, CA
2016
*GF Contemporary, Pascal Pierme: 20ème Anniversaire à Santa Fe, New Mexico
*Museum of Contemporary Art (MOCA), Abstraction Today, Atlanta, Georgia, 2015
Montclair State University, George Segal Gallery, Art Connections 11, Montclair, New Jersey
*Art Olympia 2015, Toshima City, Tokyo
*Taos Art Museum, Annual Gala Exhibition – Taos, New Mexico
*Albuquerque Musuem: Miniatures and More – Albuquerque, New Mexico
*Aberson Exhibits, Pascal Pierme – Tulsa, Oklahoma
*Calvin Charles Gallery, Pascal Pierme: Pivot – Scottsdale, Arizona
*X Florence Biennale, Art and the Polis – Florence, Italy
*SACI's International Art Exhibition Award 2015 – International
2014
*Royal Academy of Art, Summer Exhibition 2014 – London, England
*Royal Scottish Academy, International Open 2014 – Edinburgh, Scotland
*Art Gemini Prize, London's Global Art Prize – London, England
Awarded second prize for painting and sculpture
*G F Contemporary, Pascal Pierme: Après Musée – Santa Fe, New Mexico
*Taos Art Museum, Annual Gala Exhibition – Taos, New Mexico
*Albuquerque Museum, Pascal Pierme, More Artist: Miniatures and More
Albuquerque, New Mexico
*Marin Museum of Contemporary Art, Fall National Exhibition – Novato, California
Awarded first prize by Juror: Betti-Sue Hertz, Director of Visual Arts, Yerba
Buena Center for the Arts; former Curator of Contemporary Art
San Diego Museum of Art
The Club Collection, Airline Clubs Worldwide, Embler Art Gallery
MIA International Airport, Miami, Florida; JFK International Airport,
New York, New York; GRU International Airport, Sao Paulo, Brazil
2013
*Taos Museum of Art, Annual Gala Exhibition – Taos, New Mexico
*Highlands Museum – First Place, Mixed Media – Ashland, Kentucky
*Cornell Museum, National Exhibition – Del Ray Beach, Florida
Paia Contemporary Gallery – Paia, Hawaii
David Richard Gallery, sponsored by Creative Santa Fe – Santa Fe, New Mexico
Michele Mariaud Gallery, AAF International Art Fair- New York, New York
Yares Art Projects – Santa Fe, New Mexico
Cancer Foundation of New Mexico, Sweetheart Gala – Santa Fe, New Mexico
Calvin Charles Gallery – Scottsdale, Arizona
Blanche Ames National Art Exhibition – North Easton, Massachusetts
Center for Contemporary Art – Santa Fe, New Mexico
*Aberson Projects – Tulsa, Oklahoma
2012
*Living with Art, AAF International Art Fair – Singapore Island, Singapore
Living with Art, AAF International Art Fair – New York, New York
GF Contemporary, AAF International Art Fair – Seattle, Washington
Calvin Charles Gallery – Scottsdale, Arizona
*Alan Avery Art Company – Atlanta, Georgia
*Paia Contemporary Gallery – Paia, Hawaii
*Calvin Charles Gallery – Scottsdale, Arizona
*I M A Gallery – Seattle, Washington
*JAG Contemporary – La Jolla, California
*G F Contemporary – Santa Fe, New Mexico
2011
*Paia Contemporary Gallery – Paia, Hawaii
*Aberson Exhibits – Tulsa, Oklahoma
*JAG Contemporary – La Jolla, California
2010
*French Consulate – New York, New York
Dallas Art Fair – Dallas, Texas
Zane Bennett Contemporary Art – Santa Fe, New Mexico
Preston Art Center – Las Cruces, New Mexico
Chicago Art Fair, Zane Bennett Gallery – Chicago, Illinois
Miami Art Fair, Ruinart Champagne – Miami, Florida
*Calvin Charles Gallery – Scottsdale, Arizona
*Zane Bennett Contemporary Art – Santa Fe, New Mexico
2009
*Chinese European Art Center – Xiamen, China
Miami Art Fair, Zane Bennett Gallery – Miami, Florida
Preston Art Center – Las Cruces, New Mexico
Logan Fine Art – Houston, Texas
*Zane Bennett Contemporary Art – Santa Fe, New Mexico
2008
*Ube Center of Art – Ube, Japan
Poltrau Frau Show – New York, New York
Living with Art – New York, New York
Contemporary Gallery – Paia, Hawaii
*Happy Art Gallery – Cannes, France
*707 Contemporary – Santa Fe, New Mexico
*Contemporary Fine Art Gallery – La Jolla, California
2007
*Museum of Fine Arts – Las Cruces, New Mexico
*Palm Springs Museum of Art – Palm Springs, California
United Creators International – New York, New York
*Phoenix Art Museum – Phoenix, Arizona
artDC, Modern and Contemporary Art Fair – Washington, District of Columbia
*707 Contemporary – Santa Fe, New Mexico
Logan Fine Art – Houston, Texas
*Contemporary Fine Art Gallery – La Jolla, California
*Function+Art – Chicago, Illinois
2006
*Georgia O'Keeffe Museum Annex – Santa Fe, New Mexico
Riva Yares Gallery – Santa Fe, New Mexico
ART Miami – International Art Fair – Miami, Florida
2005
*707 Contemporary – Santa Fe, New Mexico
Living with Art – New York, New York
2004
*Calvin Charles Gallery – Scottsdale, Arizona
*Aspen International Art – Aspen, Colorado
*707 Contemporary – Santa Fe, New Mexico
International Atlanta Art Fair – Atlanta, Georgia
1002 Project – Calvin Charles Gallery – Scottsdale, Arizona
*Contemporary Fine Art Gallery – La Jolla, California
2003
*707 Contemporary – Santa Fe, New Mexico
*Contemporary Fine Art Gallery – La Jolla, California
*Aspen International Art Gallery – Aspen, Colorado
Michelle Delamour Show – New York, New York
Anderson Gallery – Santa Fe, New Mexico
Calvin Charles Gallery – Scottsdale, Arizona
*Trinity Gallery – Atlanta, Georgia
2002
*Expressions in Fine Art – Santa Fe, New Mexico
2001
*Soho Gallery – Palm Desert, California
The Horse Power Project – proceeds to select charities – Santa Fe, New Mexico
International Art Fair – Palm Springs, California
*Expressions in Fine Art – Santa Fe, New Mexico
2000
International Art Fair – Palm Springs, California
*Expressions in Fine Art – Santa Fe, New Mexico
Trinity Gallery – Atlanta, Georgia
Street of Dream, Showcase – Las Vegas, Nevada
Aid and Comfort – Santa Fe, New Mexico
1999
*Soho Gallery – Palm Desert, California
Governor's Gallery – Santa Fe, New Mexico
Aid and Comfort – Santa Fe, New Mexico
1998
*Museum of Fine Arts – Montgomery, Alabama
*Albuquerque Museum – Albuquerque, New Mexico
*Waxlander/Khadoure Gallery – Santa Fe, New Mexico
Aid and Comfort – Santa Fe, New Mexico
Fuller Lodge Art Center – Los Alamos, New Mexico
Sculptures Exhibit NMG – Los Alamos, New Mexico
Sixth Summer Sculpture Exhibit, New Mexico Sculptors Guild – Santa Fe, New Mexico
1997
*Miranda Galleries – Aspen, Colorado
*Waxlander/Khadoure Gallery – Santa Fe, New Mexico
1996
*Suvretta Hotel – Saint Moritz, Switzerland
*Gallery Platini – Annecy, France
*Le Manoir de Cologny – Geneve/Cologny, Switzerland
1995
*Galerie du Lavoir – Mougins, France
*Hotel Martinez – Cannes, France
*Galerie Lola Gassin – Nice, France
*Galerie du Conte – Nice, France
1994
*Club de Port la Galerie – Theoule/mer, France
*Museum of Fine Art Carnoles – Menton, France
*Accademie de Sculptures – Nice, France
*Espace Vega – Paris, France
*Galerie Pierre Cardin – Theoule/mer, France
1993
*Espace d'art Contemporain – Valbonne, France
*Galerie 17 – Cannes, France
*Espace St Petersbourg – Mougins, France
1992
*Galerie des Quais – Besancon, France
*Fondation Benazeraf – Roquebrune/Argens, France
1991
*Espace Totem – Grenoble, France
*Galerie Herouet – Paris, France
*Moulin a Huile – Tourtour, France
1990
*Galerie l'Ange vert – Biot, France
1989
*Galerie Revelli – Tourtour, France
*Private Exhibition, M.M Morel – Frejus, France

PUBLICATIONS
2022 Pascal Pierme "Origines and Life" 224 page monograph, published by GF Contemporary, Santa Fe, New
Mexico, Essays: journalist Hollis Walker, art historian Robin Clark
2019 Royal Caribbean International, Spectrum of the Seas Art Book, Designed by SWD, London
2014 Catalog: The Club Collection, Airline Clubs Worldwide, Embler Art Gallery: MIA
International Airport, Miami, Florida; JFK International Airport, New York, New York;
GRU International Airport, Sao Paulo, Brazil
2006 ARTWORKinternational, INC: Pascal Sculpture
2004 Fresco Fine Art Edition: Abstract Art
2002 Fresco Fine Art Edition: New Mexico Millennium
2001 Fresco Fine Art Edition: New Mexico Millennium

SELECTED PRESS

Magazine 43, Featuring "Pascal Pierme", Berlin, Manila, Hong Kong, 2021
LandEscape Art Review, "LandEscape Meets Pascal Pierme", London, England, Katherine Williams, July 2019
Royal Caribbean International, Spectrum of the Seas Art Book, Designed by SWD, London
Art World Innovators Radio, "Live Interview with Pascal Pierme" University of Manitoba, Canada, March, 2019
Magazine 43, Featuring "Pascal Pierme", Berlin, Manila, Hong Kong
Phoenix Home and Garden Magazine, Artful Collections, Rebecca L. Rhoades, May 2018Fine Lifestyles magazine, Sculptor Pascal Pierme Celebrates 20 Years in Santa Fe,
Elaine Ritchell, Summer 2016
Grazia Magazine, Italia, Pascal Pierme: How to be in Fashion Now, Issue 579 June 2016
Santa Fean Magazine, Art Previews: GF Contemporary, Pascal Pierme,
August/September 2016
American Art Collector Magazine, Pascal Pierme: Risk and Adventure, GF Contemporary,
Santa Fe, New Mexico, August 2016
Burnaway, Art Review: Forms of Abstraction at MOCA GA, Donna Mintz, June 2, 2016
ARTSATL, Abstraction Today, MOCA GA, July, 2, 2016
2015 Cover, New Mexico Bar Bulletin, the official publication of the New Mexico State Bar, September 16, 2015
MA-CO Italia s.r.l macoitalia.it, features artist Pascal Pierme, June 2015
The Red Book, Leisure, "Pivot, one-man show by French artist Pascal…", March 2015
The Arizona Republic, AZ Central, "Pascal Pierme: Wood Sculptures in Scottsdale",
March 2015, Kellie Kwang
Saatchi Art International, "New This Week", featured artist Pascal Pierme, August 2015
Studio Visit Magazine, Winter 2015 Edition
2014 Santa Fean NOW! Cover, "Pascal Pierme, Après Musée", September 2014
2014 KTEP-FM: State Of The Arts , Oscar Navarro, Community Engagement Manager of the
International Museum of Art previews the opening of Pascal Pierme's solo exhibition
"Santa Fe to El Paso", July 26, 2014
2014 Catalog, Miami International Airport, American Airlines Admiral Club, Embler Art
Gallery – International, 2014
2014 El Dorado Daily, "2014 Motorado Show News", June 2014
2014 ArtBeat KVSF 101.5 The Voice of Santa Fe, "Featuring Pascal Pierme", hosted by
Kathryn M. Davis
2014 American Art Collector magazine, October 2014, "Pascal Pierme, Après Musée"
2013 Scottsdale Lifestyles Magazine, "Calvin Charles Gallery Hosts 'The Start of Our Season'
Event", November 5, 2013
2013 Professional Artist Magazine, "Different Views on Creating Commissions",
Brenda Hope Zappitell, October/November 2013
2013 The 11th Annual Blanche Ames National Art Exhibition, Catalog, Published by Friends of
the Borderland
2013 The Taos News, "Gala Auction Presents Artwork of Taos Present and Past",
August 22, 2013
2013 New York Social Diary, "Spellbound in New Mexico, Part II: Taos", Augustus Mayhew,
July 16, 2013
2007 UCON Contemporary Arts Communique, International Magazine: "Pascal"
2006 The Albuquerque Journal, "Pascal: With the Grain"
The Magazine, "Pascal: Soluble dans l'air"
2004 Arizona Republic, "Pascal at Calvin Charles Gallery"
2001 Santa Fe New Mexican, "Horses of a Different Color"
2000 Santa Fe New Mexican – Pasatiempo, "Pascal's enduring passion for wood…"
1998 Desert Sun, "French artist restores life to wood"
Santa Fe New Mexican – Pasatiempo, "Fuller Lodge Kicks Off New Exhibit"
Aspen Magazine: People
Santa Fe New Mexican, "Art Blooms in Play-Garden"
1996 Nice Matin, "Conference et Diaporama de Pascal, Dans Cadre de Son Expose"
Nice Matin, "Au Manoir de Cologny – Pascal Expose…"
1995 Nice Matin – Mougins, "Un Dialogue Avec la Matiere…"
Nice Matin, "Theoule-Sur-Mer: Peinture et Sculpture : Rendez-Vous Reussi"
1994 Nice Matin – Vences, "De New York a la Provence…"
1993 Valbonne, "Enveloping and Continuous Movement"
Nice Matin, "Vernissage-Prestige"
Nice Matin, "Exposition Galerie Lola Gassin…"
1992 Var Matin, "Catherine Fiault and Pascal Pierme at the Gallery des Quais"
Var Matin, "Pascal and J. Lendi at the St. Pierre Chapel"
Nice Matin, "Chapelle du Parage- Exposition du Sculpteur Pascal"
Nice Matin – Tourtour, "Pascal Pierme Expose…"
1991 Nice Matin – Tourtour, "Pascal Pierme Expose…"
Nice Matin – Tourtour, "Pascal, Sculpteur et Humaniste"
1989 Nice Matin – Tourtour, "Pascal Pierme Artiste"

SELECTED COLLECTIONS
Active Health – New York, New York
Alston & Bird Law Firm – Atlanta, Georgia; New York, New York;
Arthur Turk, MD – Tustin, California
Bagby & Company – Chicago, Illinois
Big Horn Golf Club, Palm Desert California
Bill Redecker, ABC
Bo and Steve Golovan, Castelbar Real Estate – Chicago, Illinois
Bighorn Golf Club, Palm Desert, California
Castlebar Enterprises, Chicago, Illinois
Carol Burnett – Santa Fe, New Mexico
Charlotte and Raleigh, North Carolina
City Hall – Collogny, Switzerland
Coastwise Capital Group, LLC. – La Jolla, California
Cohen, Pollock, Merlin, Axelrod & Small, P.C. – Atlanta, Georgia
Cologny City Hall, Cologny, Switzerland
Community Bank – Santa Fe, New Mexico
Cy Barcus, Cy Barcus Homes – Dallas, Texas
David and Connie DiCarlo, Blank Rome LLP – Washington, D.C.
Douglas H. Austin, Chairman/CEO, Austin Veum Robbins Partners – San Diego, California
Dr. Avi & Nitsa Reich, Helmsley Hotel, #120 – New York, New York
Eldorado Hotel – Santa Fe, New Mexico
Equifax World Headquarters
Exelon Corp., Chicago, Illinois
Fulbright Building, Fayetteville Public Library, Fayetteville, Arkansas
Homer Delawie, Architect – San Diego, California
Hotel Valley Ho, Scottsdale, Arizona
Irving Hughes – San Diego, California
Intercontinental Hotel, San Diego, California
Jerdan Enterprises Inc. – Montrose, New York
Kurt & Cynthia Kalkomey – Dallas, Texas
Los Angeles Land Trust – Los Angeles, California
LPL Financial Services – San Diego, California
Marriott Hotels – Nationwide
McWhinney Residence
McWhinney Residence – Denver, Colorado
Merrion Oil and Gas – Farmington, New Mexico
Mike Rose, President, Sherman Williams Paints – Los Angeles, California
Mitchell Channon, Mitchell Cannon Design – Chicago, Illinois
Mitchell Leon, President, Design Write – Princeton, New Jersey
Mont Parnes Hotel & Casino – Parnes, Dytiki Ellada, Greece
Mr. and Mrs. John Martin, CEO Turner Broadcasting – Atlanta, Georgia
Museum of Indian Arts and Culture; Laboratory of Anthropology – Santa Fe, New Mexico
New Mexico Office of Archaeological Studies, Santa Fe, New Mexico
Palais Bulles, Pierre Cardin's residence – Cannes, France
Perry MacKrill, PM Design Studio – Washington, D.C.
Pzena Investment Management, New York, New York
R.C. Peterson, The Peterson Group Building & Development – Anchorage, Alaska
Regency Casino Mont Parnes, Athens, Greece
Rocky Mountain Healthcare Foundation – Avista, LIttleton, Parker and Porter, Colorado
Roger Guillemin, Nobel Prize recipient, medicine
Ron & Irene Krutulis – Homerglenn, Illinois
Sanctuary Hotel and Spa – Scottsdale, Arizona
Savills Studley, New York, New York
Stone Eagle Golf Club, Palm Desert, California
The Alicia M. and William A. Miller Fine Art Collection – Santa Fe, New Mexico
The Fullbright Building (Marlon Blackwell Architects), Fayetteville, Arkansas
Thoms and Pam Grossjung, Integrated Health Care Services – Coral Springs, Florida
Tom Mottola, Casa Blanca Records – New York, New York
TrizecHahn, One Alliance Center – USA and Canada
Trust for Public Land – Los Angeles, California
Valley Ho Hotel – Scottsdale, Arizona
Vaught & Clements, Vaught Faye Architects – Fort Collins, Colorado