BIOGRAPHY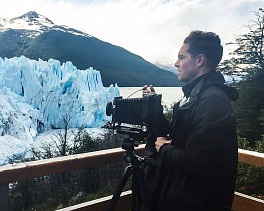 JONATHAN SMITH
British, born 1978
Lives and works in Brooklyn, NY


EDUCATION

Diploma Documentary Practice and Visual Journalism, The International Center of Photography, New York (2000-2001)
B.A. (Honors) Fine Art, The University for Creative Arts in Canterbury U.K (1997-2000)
Jonathan Smith spent the early years of his career assisting and printing for renowned photographer Joel Meyerowitz, and has had solo exhibitions both in the United States and Internationally. His work consists of large scale, highly nuanced color photographs of the stark natural beauty and inherent impermanence of landscapes.
Smith has been photographing natural landscapes for more than 15 years. Shooting precisely and selectively with incredible detail, Smith often revisits the same site on several occasions until he feels the essential character of the landscape has been revealed to him. This conscious and gradual process of documentation results in meditations on land, water and air.
His investigations of landscape have led him to the remote locations of northern Iceland and southern Patagonia, where he photographed streams, glaciers, glacial rivers and waterfalls. These landscapes, devoid of human presence, display a world lost in time. Often abstracted, these photographs of mountain streams and glacial shifts are a reminder of the forces of nature at play; a sublime beauty far removed from the everyday. Drifting into frame, the dreamlike palette of these landscapes offers a window into an ephemeral world where scale and perspective become impalpable. These landscapes inspired the creation of large-scale prints that echo the vastness of the spaces they depict, inviting the viewer in to contemplate their own relationship to the natural world.
Smith has been the recipient of a number of awards for his work including The Hearst Biennial Award, The Magenta Foundation Award, the PDN Annual Awards and the Photography Book Now Blurb award. Additionally, his work has appeared in numerous magazines including The Smithsonian, The Royal Photographic Society, PDN and Art and Architecture.
SOLO EXHIBITIONS

2020 "Waterways", Diehl Gallery, Jackson WY
2018 "Oceans", Ille Arts gallery NY
2017 "Waterforms", The Curator Gallery, NY
2016 "Streams/Glaciers", Ille Arts, Amagansett, NY
2015 "Streams", Nunc Contemporary, Antwerp
2015 "Streams", East Central College Gallery, Union, MO
2014 "Streams", Curated by 3walls,The Curator Gallery, NY
2013 "Landscapes: Parallel and Visual Journals", Ille Arts, Amagansett, NY,
2011 "Untold Stories", Hearst Gallery at Hearst Tower, NY
2010 "Untold Stories", Rick Wester Fine Art, NY
2005 "The Bridge Project", The International Center for Tolerance Education, NY
GROUP EXHIBITIONS
2021 Featured Artist, Lanoue Gallery, Boston, MA
2020 "Warm Waters", Anne Neilson Fine Art, Charlotte, NC
2019 "Selected works", Ille Art, Amagansett, NY
2018 "Streams/Falls" Putnam & Mason, Greenwich CT
2018 "Tirreno" Elizabeth Dow Gallery, Amagansett, NY
2016 "Waterways IV", Heather Gaudio Fine Art, New Canaan, CT,
2016 "Artists of the Year, 2015 Greatest Hits", The Curator Gallery, NY
2015 "And Everything In Between", DZINE Gallery, SF
2014 "Artists of the Year, 2014 Greatest Hits", The Curator Gallery, NY
2014 "Observing Connections" CVA Gallery, Brookdale College, NJ
2014 "Away We Go", Emerging Brooklyn Artists",The Curator Gallery, NY
2012 Annual Holiday Salon Exhibition, Ille Art, Amagansett, NY
2012 "3walls", Three person Exhibition, Brooklyn, NY
2011 "Hail traveller! Rick Wester Fine Art, NY
2008 "The Altered Landscape", Newspace Center for Photography, Portland, OR
FAIRS
2019 Photo L.A
2018 ICFF, NYC
2018 Art on Paper NYC
2017 AIPAD, NY
2015 Art 021, Shanghai
2015 Pan Amsterdam
2014 Scope, Miami
2013 AIPAD, NY
2013 Fotofever Fair, Brussels
2013 Art Market Texas
2013 Art Market Hamptons
2012 AIPAD, NY
2011 Governors Island Art Fair, NY
2011 AIPAD, NY
2010 Governors Island Art Fair, NY
2006 PhotoPlus Expo,
2006 Photokina, Cologne
HONORS
2020 Herhúsid, Art Residency, Iceland
2016 Herhúsid, Art Residency, Iceland
2014 Herhúsid, Art Residency, Iceland
2013 Herhúsid, Art Residency, Iceland
2011 Hearst 8x10 Photography Biennial, "Untold Stories"
2010 The Magenta Foundation, Flash Forward competition, Winner, "Untold Stories"
2010 PDN annual Awards, Winner, Personal category, "Untold Stories"
2009 Sony Photography Awards, Shortlisted, "East/West"
2009 Santa Fe Prize for Photography, Nominated, "The Bridge Project"
2008 Photography Book Now, Blurb, Category Winner, "The Bridge Project"
2008 The Magenta Foundation, Flash Forward competition, Winner, "Night and The City"
2006 PDN 30, Winner, "The Bridge Project"
2004 The Design Trust for Public Space, Photo Urbanism Fellowship, "The Bridge Project"
SELECTED PUBLICATIONS/CLIENTS
Aperture
Hewlett Packard
Random House
None Such Record
The Metropolitan Museum
The Museum of the City of New York
Smithsonian Magazine
Metropolis Magazine
View Magazine
PDN
Art and Architecture
The Design Trust for Public Space,
Taschen,
Royal Photographic Society Magazine
View Magazine
Popular Photography
COLLECTIONS
Museum of the City of New York
The Design Trust for Public Space