BIOGRAPHY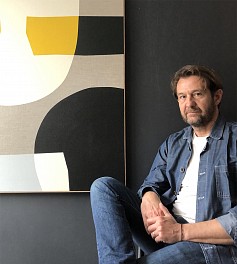 Born: Grenoble, France, 1968. Resides in Toulouse, France
Following an extensive and successful career in advertising, in 2018 Francois Bonnel made the decision to devote himself full-time to his passion for painting and photography. In an impressively short period of time, he garnered favorable recognition for his paintings and was offered exhibitions across Europe, Australia and the United States. Lanoue Gallery is pleased to be the first gallery in the US to represent Bonnel.
Interview: François Bonnel, Toulouse, France. Courtesy of AbstractMag July 9, 2019
Tell us a bit about yourself, as far as we know, your artistic journey began 25 years ago?
In fact, I have always been immersed in the world of creation. My grandfather and my mother were already painting. During childhood, the first approach was very fun, painting with the fingers, mixing colors and drawing random forms… For me it was very natural. I have always painted for pleasure and first figurative paintings to learn the basics… Then my paintings become abstract. More and more often the relations who came home complimented me and encouraged me to share my work.
How did you manage to combine work and leisure, and what made you start an active artistic career?
For 25 years, I worked a lot for an advertising company… I learned about human relationships, communication and management. But the weekend, I needed to clear my head and find a positive energy. Then I realized that the only thing that really made me want to get up in the morning was to paint… It became an emergency, almost an obligation for my balance. My family was great. They supported me to take the step to paint full time…
I created an Instagram account a year ago, and quickly, I had positive contacts with galleries, agents, art lovers and other artists… it encouraged me to go on… I started by exposing canvases in local gallery, it allowed me to gain legitimacy but very quickly I had much more contact by Instagram (especially AbstractMag)… This is the beginning of a beautiful story.
You always use various geometric shapes. What meanings do you put in them?
When I hang a painting on a wall, I want it to give me pleasure, an emotion (preferably positive…) and for me the curves and the bright colors bring this energy, the shadows bring them a contrast and a depth… It must be as simple as possible… I am not trying to convey a message. The emotion is what I am looking for. I do not paint for unanimity, but simply to please me and share this pleasure with some… For me a painting must be in harmony with its environment as a perfume or a music… it's a matter of style…And my style will certainly evolve with time…
Tell us about your studio, where do you work?
I work at home in Toulouse, South West France. While waiting to find a workshop, I have the chance to paint in a large room of the house. But I'm starting to have storage problems. I love the spring days and the light.
What inspires you?
I spend time discovering other artists in galleries or on the Internet… Instagram also offers the possibility to follow the work of other painters. It's very important for me, to learn, to explore new tracks and to improve myself. I like the minimalism of Ellsworth Kelly, the shadows of Keller, the colors of Anna Mac, the energy of Taylor A White, the sweetness of Yvonne Robert, the geometry of Frank Stella and the dynamics of Matisse… etc…
My inspiration I find it also in my daily environment… Nature does masterpieces, nothing is more inspiring.
No need for explanations to enjoy a tree, a sunset or find fun shapes in the clouds… For me the inspiration is there too…
The biography on your site says that music plays a big role in your paintings. What kind of music is it?
I love listening to music. It accompanies me every day. Music influences my mood. It's a question of rhythm. I can listen to very different styles from Classical to Rap through Electro…
I particularly appreciate Beck for his eclecticism, Cameron Avery, Burt Bacharach, Scott Walker, Jonathan Jeremiah, Anderson Paak, Mac Miller, Serge Gainsbourg, Keren Ann, The Arctic Monkeys or Daft Punk… it's impossible to quote everything…Often the influence is such that I pay tribute to artists by naming my paintings.
What are your plans for the rest of the year? Do you have exhibitions planned?
I would like to find a larger workshop to work on larger formats. I will continue to work in collaboration with beautiful galleries online and accept gallery exhibitions… staying in touch physically is essential. The "Sans" Gallery in Toulouse in July. Then Paris, Saint Tropez and Megève with L'Atelier 55. I have also some offers for exhibitions in galleries in New York, Brussels and Barcelona.
Thoughts that you would like to share with our readers?
Your readers are people who are already arts lovers… They already know all the pleasure that one can have when creating or looking artworks… but personally the destiny of certain artists to influenced mine… I have long missed of confidence in me and therefore lost time in my artistic exploration… I encourage everyone to believe in themselves… This is what I want to share… as well as a good glass of wine and cheese!
Resume
2022
Gallery Lanoue, Boston "C'est Comme Ca" – Solo Show: June 24 - July 24, 2022
Cheryl Hazan Gallery, New York "Out There"– Group Show - April 2022
AAF Brussels, Belgium, March 2022
Macadam Gallery Brussels, Belgium – Solo Show "Intersection" February 2022
2021
Gallery Red - Palma de Majorca - Summer 2021

Lanoue Gallery Boston, Featured Artist, April 2021

Macadam Gallery Brussels, Belgium, March 2021

2020

Piermarq Gallery Sydney, Australia 26 December

New real / unreal show "Round 4" Copenhagen, Denmark




Virtual show curated by Evan Trine- Peter Ibsen

KunStrai Amsterdam, Netherlands, December 2020

Gallery Red -Palma de Mallorca, Spain, July 2020

Lille ArtUp 05 to 08 March 2020

Art Miami Fair with Boccara Rugs, December 2020

Sans Gallery, Toulouse, Nov 4, 2019 - January 04, 2020

2019

Exhibition Photos "Carré Rouge", Toulouse, November 2019

WTC The Hague Gallery, Netherlands

Art The Hague Netherlands 02-06-2019

Pool Party

111 des Arts, Toulouse

Boccara Art 2019, Artwork and Rugs, Paris - London - New York

Amélie Maison d'Art 2019, Paris - London

2018

The ArtPlug 2018 US

AbstractMag 2018

ArtMajeur Gallery

IXI Art Galerie, Toulouse