BIOGRAPHY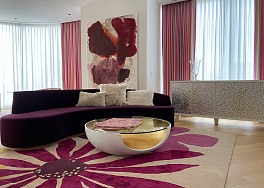 BIOGRAPHY
Born in Ghent, Belgium, (1955 - 2015)
EDUCATION
1980-1981 Graduate Program Printmaking Dept., UNM Albuquerque, NM
1979-1980 Tamarind Institute, UNM Albuquerque, NM
1973-1977 M.A. St. Lucas Institute of Visual Arts, Ghent, Belguim
1964-1973 City Academy of Fine Arts, St. Niklaas, Belgium
ABOUT
(Excerpts from the essay, Dirk De Bruycker at La Bocona, by David Clemmer , 2013)
The formal influence of certain of Dirk De Bruycker's antecedents is readily apparent while that of other forebears is more felt than seen, more conceptual than material. His kinship with the groundbreaking mid-century American abstractionists is notable and he cites the works of Willem deKooning, Mark Rothko, Jackson Pollack, and Barnett Newman as being of particular importance. Techniques of staining the canvas and pouring of paint, that De Bruycker has long utilized, are strategies that connect his aesthetic DNA to that of Pollock, Rothko, Arshile Gorky, and to the Color Field school painters Morris Louis and Helen Frankenthaler.
De Bruycker's method is a unique and unconventional process that has evolved over decades of studio practice and experimentation. A progression of distinct phases begins with the application of an underlying structure, painted with thinned asphaltum onto raw cotton duck canvas. This is the only stage of the process in which De Bruycker makes use of a brush. Applications of pigment, cobalt drier, paint thinner and gesso follow; the canvas is scraped with improvised squeegees, then tilted and rotated to direct the flow of color. The painting is periodically set aside to dry, allowing the media to interact and some of the underlying imagery to migrate up throughout the layers.
When asked how the environment influences his aesthetic, De Bruycker says, "I think some of the intensity and sensuality of Latin America has crept into my work. There is a feeling of unease here below the surface that is palpable and yet it is so beautiful here. The force of life here is so strong; it permeates everything- you can literally hear things grow. I think it is some of that intensity of life, which is very different from my cooler northern European sensibilities, that I have allowed to surface in the paintings."
Peder Kolind, a Danish citizen who now calls Granada home, has amassed the largest single collection of De Bruycker's work, referred to as the "La Bocona" collection". The paintings, which span a period of 18 years, reveal the development and application of what De Bruycker calls the "painterly logic" that guides his work. The painterly logic is at the heart of De Bruycker's work and it describes not only his process of instinctive physicality and precision but the life of the artist as well - "solitary creativity, living like a cat, capitalizing on the moments of focus." The vicissitudes of chance are welcome. The interaction between instinct and expertise becomes organic to the point where the
AWARDS
1991 Vlaamse Executieve, Dienst Musea en Beeldende Kunst: Visual Artists Workgrant
1989 National Endowment for the Arts, Visual Arts Fellowship Grant
1988 Laureate, Visions of Excellence, Albuquerque United Artists, NM
1982 Printmaking Laureate, Province of East Flanders Award of Fine Arts, Belgium"

COLLECTIONS
Flemish Community Government, Province of East Flanders
Ministry of Visual Arts, Brussels, Belgium
Embassy Suites Hotel, Chicago, IL
First Union Bank, North Carolina
HTC Services, Hutchinson, MN
Hallmark Collection, Kansas City, MO
Microsoft Collection, Seattle, WA
Museum of Fine Arts, Santa Fe, NM
Mandarin Oriental, New York, NY
Hank Vigil Collection, Seattle WA
Marriott Group
Ohio Wesleyan University, Delaware, OH
Sprint Collection, Kansas City, MO
Bellagio Collection, Las Vegas, NV
Daum Museum of Contemporary Art, Sedalia, MO
The Federal Reserve, Kansas City, KS
Merck & Co., Inc, Boston, MA
The Federal Reserve, Kansas City, MO
University of New Mexico, Albuquerque, NM
Oppenheimer Fund, CO


Lanoue Gallery 2019 Exhibition - Video Tour