BIOGRAPHY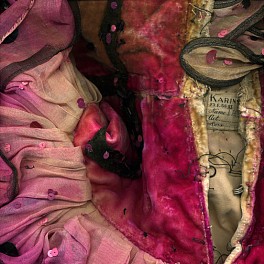 CARIN INGALSBE
Artist Statement
"The ballet costume images are, in their essence, portraits. The costumes range in age from 60 years old, at their youngest, to pieces that date back to the 1700's. The wear and tear of the costumes has been a centerpiece of my portrayal of them. Their deterioration through use, like African art, is evidence of the number of hands through which these garments have passed over time.
From its inception, each costume was created with the understanding that the final vision of the designer would only exist until the first dancer put it on. The struggle between visual design and functionality starts at once as the wardrobe master and mistress stand off-stage taking notes about the things that fall off or tear during performance. The destruction of the garment begins, and from that point on it becomes a living and ever-changing object that morphs through the brilliance and talent of others.
My compositions are expressions of what I think the essence of the garment, as it is today, is all about. And as with traditional portraiture, my motivation is to pare down the image to its essence so that the viewer can experience what I think is worth looking at."
The ballet companies who kindly provided Carin Ingalsbe with access to their costume archives are: The New York City Ballet, The Paris Opera Ballet, The Royal Swedish Ballet and The Boston Ballet.
Biography
1960 Born in New York
Education
1982-83 Tufts University, Medford, BFA
1982-83 School of the Museum of Fine Arts, Boston
1981 Minneapolis College of Art and Design, Minneapolis
1978-80 University of Florida, Gainesville